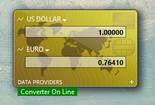 This is the page of the old MS Currency, a gadget I liked a lot.
You may like to replace it now that it won't work, with the free Currency Gadget.
Of course, you are welcome to download from this page the old Microsoft gadget, just to make sure if it works or not for you.
If you are not on your computer or if you are not able to install a gadget, or for whatever other reason, you can always use the free On-Line Currency Converter.
Save the .gadget file to your disk for later, or run it to start using Currency Converter immediately