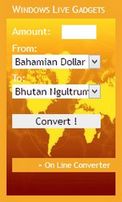 Unfortunately the New Currency Converter seems not to work any more. You can download it from this page and try it, as well as the Microsoft gadget, but most probably exchange rates won't be updated.
If you need a free gadget that supports a lot of currencies, get the free Currency Gadget.
You can also use the On Line Converter.
Run the .gadget file to start using the Currency Gadget immediately, or save it to your disk to install later.