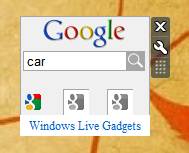 This is a great free gadget, that will let you search for images with Google, but making your life easier. The gadget features three options.
The first (default) option searches Google using the Classic image interface, with paged results, empty space between image rows and columns, showing image size and image web address.
The second option searches Google using the new interface with all the results on a huge page – but showing image size.
The third option will let you search Google in the new interface for images of specific dimensions, e.g. 1024 x 768, 800 x 600 etc.

Save the .gadget file for later, or run it to start using the gadget immediately
If you are not on your computer or for any reason you can not install a gadget, the same service is available on line at
a web page you can bookmark and use