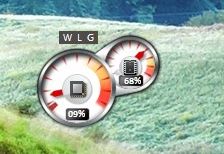 CPU Meter lets you see the current computer CPU and system memory (RAM).
A lot of gadgets copied the style of this one, yet the original design remains a classic.
The gadget features analog display of cpu and ram use, along with two digital clocks showing the exact percentage.
Download and enjoy! Or, get this one, which is better!
Run the .gadget file to start using CPU Meter immediately, or save it to install later