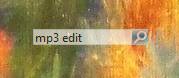 Software Search is a free and nice gadget that will let you find easily freeware, whenever you need to.
The gadget places on the Desktop a discreet search box, that can become almost invisible, if you reduce its opacity to 20%.
A small, simple, convenient and useful gadget, you can combine with the Software Search Plugin for Internet Explorer or Firefox.
Save the .gadget file for later, or run it to start using Software Search immediately