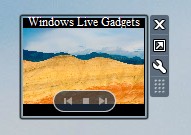 Wallpaper Gadget will let you explore your wallpapers, the default Windows folder or any folder you like that contains your pictures.
The gadget will create inside its own (small or large) window a slide show, even with transition effects, and it will let you select manually or automatically, at specified intervals, a picture to become your desktop wallpaper.
Wallpaper Gadget is one of the most impressive gadgets available.

Run Wallpaper.gadget to start using it immediately, or save it to your disk