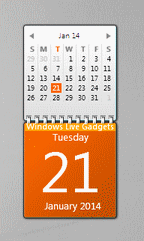 This is one my favorite gadgets, because of its simplicity and style. It resembles those wall calendars featuring the date, but also an overview of the whole month.
The simple calendar gadget won't let you set alarms, only to enjoy viewing the current date and month, even skip to previous or next months and search for dates you are interested in.
If you are after elegance and simplicity, you will love this gadget.

Run the .gadget file to install the Calendar immediately, or save it to your disk for later use