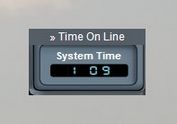 World Time Desktop Gadget lets you monitor several times across the world, including also a connection with On Line real time automatically adjusted times that give a global image of the world time differences.
World Time Gadget is powerful and absolutely free. If you don't need to watch several times, you can always use it as a simple digital clock.
If you don't want to use a gadget, you can always consult this free On Line World Time Page.

Download World Time Gadget