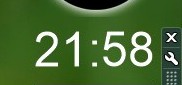 DigiClock is simple, elegant and free.
The gadget will let you see the time, and optionally, in smaller letters, the date (with or without year).
You can change letter color and typeface, you can adjust the time zone bypassing your PC's time, you can even add a shadow effect if you like it.
Run the .gadget file to start using the gadget immediately, or download it to install later.