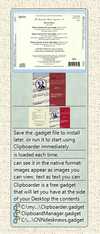 Clipboarder is a free gadget that will let you have at the side of your Desktop the contents of your clipboard; whatever you copy appears right there; any time you wish, you can drag and drop it elsewhere, or select it with a keyboard shortcut and paste it using the known Ctrl+V or Shift+Insert combination.
Clipboarder can have a very small pane, or be resized from top to bottom of the screen. As each item is added on Clipboarder when you copy it, you can see it in the native format: images appear as images you can view, text as text you can read, etc.
This is an original and well functioning gadget you can have to re-use copied items, or even just to monitor the chain of your clipboard and know what is loaded each time.

Save the .gadget file to install later, or run it to start using Clipboarder immediately