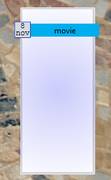 Power Do is a small, elegant and very convenient gadget you can use to create, organize, save, and print your to-do list.
Tasks are always visible (until they expire) each in a colored row along with their date. This way you save a lot of space, much more space compared with the usual post-it notes.
Tasks can be saved in an external backup file and printed directly from the gadget.

Save the .gadget file to install later, or run it to start using PowerDo immediately