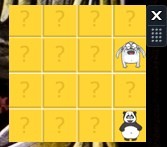 Logic gadget requires that you guess the logical sequence of animals on screen.
The game needs intelligence, it can be a great way to try your IQ!, and the gadget is free and safe.
Run the .gadget file to start enjoying it immediately, or save it on your disk to install later.