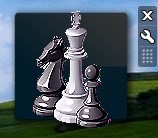 I like chess, and I enjoy using a lot of chess apps to have a variety of feeling and environments.
This gadget will let you have some chess pieces always on your desktop to inspire and invite you for a game!
Run the .gadget file to start enjoying it immediately, or save it on your disk to install later.