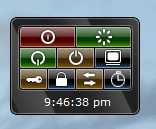 System Controls is a powerful Windows gadget that will let you execute regular Windows commands — shutdown, restart, log off, standby, etc. (Check also Windows Rule, especially if you are on Windows 8).
The gadget includes also a digital clock and a countdown timer that will let you run a Windows command automatically after a predefined time.
You can configure how many rows to display at once in order to make the gadget smaller or larger.
Save the .gadget file to install later, or just run it to add System Controls on your Sidebar