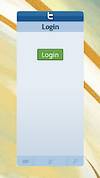 If you like to have your Twitter updates right on your Desktop, you can try this little Windows gadget, that will let you do just that.
Twitter Explorer features a small and a larger size where you can display Twitter updates, two themes (blue and black) and more.
Please note that Twitter Explorer seems to have stopped cooperating well with Twitter, and the developer of the gadget has not updated it. You can give it a try, if you like, and check back later in case an updated version is released (let me know if you already have one).

Save the .gadget file to install later, or run it to start using Twitter Explorer immediately.