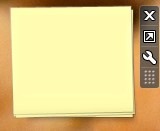 InkNotes is a simple notepad, letting you write several notes, yet with a great difference.
InkNotes won't let you type but only hand-write as the mouse cursor becomes a dot ready to draw.
Run the .gadget file to start enjoying it immediately, or save it on your disk to install later.