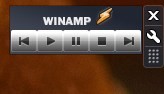 A nice gadget that will let you open and control Winamp from the desktop. That is, if you still use Winamp.
As for myself, I haven't found any other player with all these plugins that I need to handle my needs. You may like to check also this post with tips for a PC based hifi system.
Run the .gadget file to start enjoying it immediately, or save it on your disk to install later.