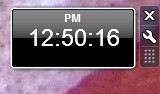 Black Glass Alarm is a great simple alarm gadget!
Dressed in glassy dark, it lets you select a predifined common alarm time, or configure one yourself as you please in a 24 hours span, though.
The gadget lets you select any sound you like to be your alarm. Of course, you can use it even only as a simple digital clock, being also connected with World Time.
Run the .gadget file to start enjoying it immediately, or save it on your disk to install later.