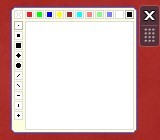 Is it any worth? Who can draw what on this tiny canvas?
However, this Mini Paint desktop gadget is a collector's item, just because it incorporates all this functionality in a gadget.
Run the .gadget file to start enjoying it immediately, or save it on your disk to install later.