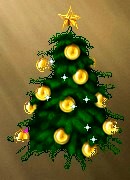 In fact the tree is deep green, in its natural color, but the ornaments are golden and they appear first in the eye!
Lights are there too, and they appear to shine and disappear when the mouse passes over the tree.
A golden star at the top, as expected.
Run the .gadget file to start enjoying it immediately, or save it on your disk to install later.
Download the Golden Christmas Tree